Pear and chocolate financier-gluten free
French Cuisine – What it is and How to Make It Yourself
In order to learn how to make French foods that are delicious, you must first start by reading a book on French cuisine.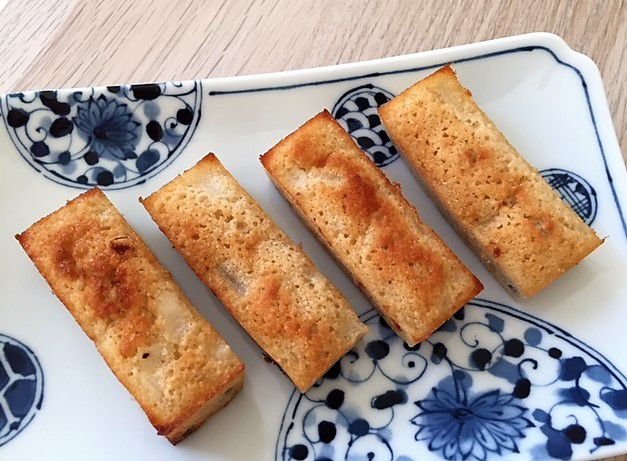 The financier is a very ancient french cake first made by catholic nuns in Nancy (Lorraine) in the 17th century. They needed egg yolks as a component of painting materials and used the egge whites mixed with almond powder, sugar, flour and butter for this recipe.
Enjoy them for tea time with a hot Earl grey !
Ingredients : (serves 6 to 8 persons)
Icing sugar: 100 g
Almond powder : 55 g
Rice or wheat flour : 35 g
Egg white : 100 g (3 eggs)
Butter : 100 g
chocolate chips: 25 to 50 g
1 pear (as soft as possible)
Preparation of the recipe :
1.Preheat oven to 180 ° C (th. 6).
2.Melt the butter in a saucepan and cook until golden brown, then let it cool.
3.Mix egg whites, sugar, flour and almond powder with a spatula. Add the melted butter, then let the dough rest. Peal and cut the pear in small dices, then add it with the chocolate chips to the preparation and delicately mix.
4.Butter small individual molds and pour the preparation into them.
6.Bake for 20 minutes.
7.Let cool, take out of the molds and serve.
They are also great with fresh cream or
vanilla ice cream
!
A Simple Introduction to French Cuisine
Not all of us can claim to be experts on French Cuisine. Maybe we have only had a simple meal here or maybe it was only once. No matter how we end up enjoying this wonderful food, you can always go back to where you first learned about the concept of French cooking.